The first step in the installation process is to configure how administrators and users will access TM1Connect. This is where you specify the method used for gaining access to TM1Connect services, not the connection to TM1. How the user connects to TM1 is specified in the TM1 Connection tab. TM1Connect supports three authentication methods:
❑Integrated - Use this setting if users will be connecting to TM1 using integrated login.
❑Basic - This mode will prompt the user for credentials in order to access TM1Connect
❑Anonymous - Allows all users to access TM1Connect
| | |
| --- | --- |
| | It is important to understand that configuring access to TM1Connect does not enable users to access data in TM1. This configuration method is an extra layer of security to enable specific users access to TM1Connect Server. |
Once the authentication method is selected, the Virtual Directory field should reflect the name to use when accessing TM1Connect via a URL (this is typically http://ServerName/TM1Connect).
In the Physical Directory field, specify the physical path where TM1Connect web server files will be installed. By default, TM1Connect will create a new IIS Application Pool exclusively for your application. When you are done, click Next to continue.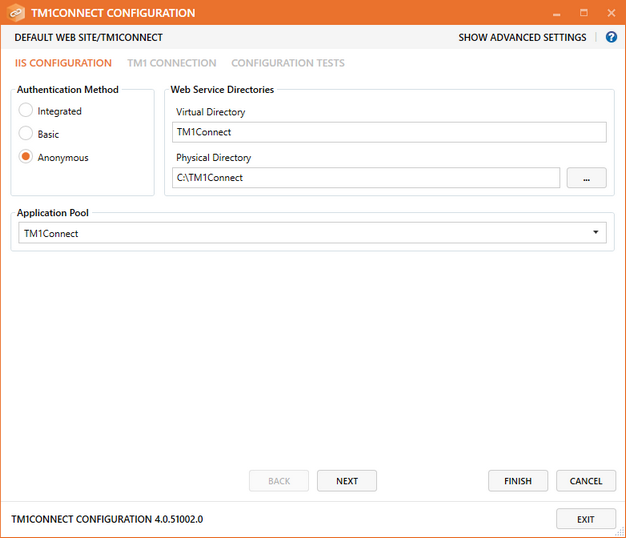 i