This section provides you with the details for installing, configuring, and testing TM1Connect. Prior to running the TM1Connect installer, it is recommended to perform install and/or configure each of the Prerequisites below. If you do not, TM1Connect may not install nor run properly.


Prerequisite: Windows/IIS Features/Role Services
Please select your operating system for the specific configuration required. Ensure that, at a minimum, your system has all of the prerequisites properly installed and configured.

Prerequisite: IBM Cognos TM1 APIs
TM1Connect provides two methods of connectivity to TM1.
•TM1 Native API
•OData REST API (TM1 Version 10.2.2 and later)
All functionality is the same between these two connectivity modes, however, the TM1 Native API requires the availability of the TM1 APIs on the same machine as the TM1Connect Server and TM1Connect Data Agent.
If TM1Connect Server or TM1Connect Data Agent are installed on the same server as TM1 Server, no additional installation is required. Just be sure to note the folder location of where the TM1 Server was installed. Typically, C:\Program Files\IBM\Cognos\TM1_64\Bin64. This will be used during the setup and configuration.

Installed on a separate server from TM1
If TM1Connect and/or TM1Connect Data Agent are using Native API connectivity mode, the 64 bit Server DLLs will need to be accessible on the same machine. These DLLs cannot reside on a network drive (Windows restriction). There are two methods of making the DLLs accessible:
•Install TM1 Server, but disable any instances from starting
•Copy Bin64 from a running TM1 server to a local directory (no need to install TM1). Place it in the folder C:\Program Files\IBM\Cognos\TM1_64\Bin64

Running the setup file
Click Next to continue with the setup.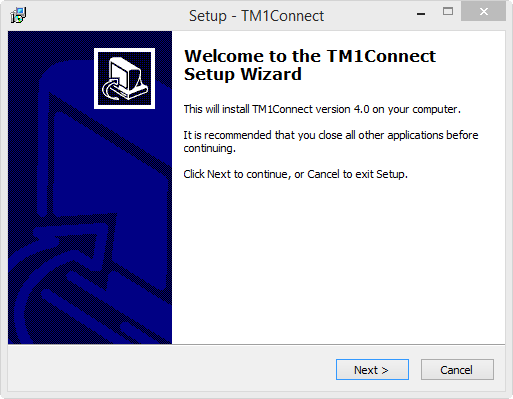 Select Destination Directory
This screen allows you to set the directory where TM1Connect program files are stored.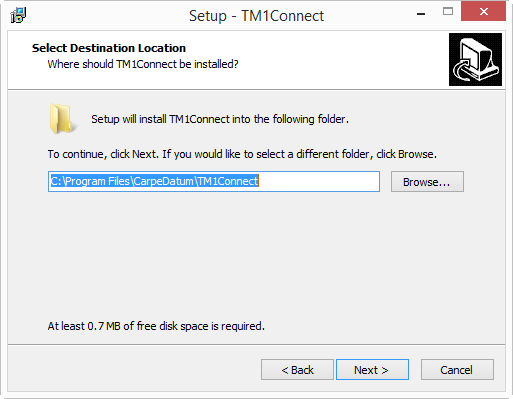 Select the software components to install
At this point, you can select which software components to install based on your environment. There are four options to choose from:
❑TM1Connect Server (may be installed on the same server as TM1)
❑TM1Connect Data Agent (strongly recommended to be installed on the same server as TM1)
❑TM1Connect QlikView Plug-in (installed on QlikView Desktop clients)
❑TM1Connect ODBC Driver (installed on Tableau, Business Objects and other ODBC compliant clients)
| | |
| --- | --- |
| | Although not required, TM1Connect Data Agent should always be installed on or in close proximity to the TM1 Server. The Data Agent needs to communicate with TM1 directly with large amounts of data. If this is installed on a separate server, performance will be impacted. |
To Install TM1Connect on the same server as TM1:
❑Install TM1Connect Server separately

To Install TM1Connect on a separate server from TM1:
❑Install TM1Connect Server separately
❑Install TM1Connect Data Agent on the TM1 server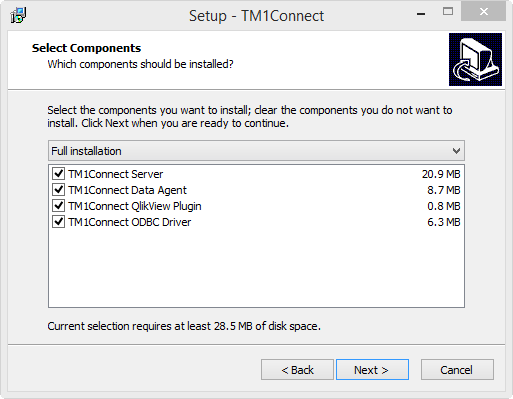 Select the TM1Connect data folder
If you have selected to install the TM1Connect data agent, you will be prompted for the location of the data folder that will hold all of the temporary files as well as the output files (QVX, CSV, TXT, etc.) in separate directories within this location. Set this path to the appropriate location and click Next to continue.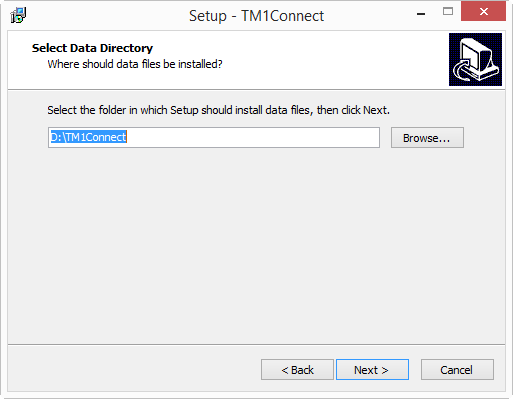 Select TM1 Installation Directory
When prompted for the TM1 installation directory, you must supply the proper location where the TM1 binary files are located that are appropriate for the platform that TM1Connect will be running on (64 or 32 Bit). If this directory is not specified correctly, you can continue with the installation, but TM1Connect will not be able to connect with TM1 and will fail. The default path for the TM1 installation files are shown below.
64-Bit Operating Systems




TM1 v10.x

C:\Program Files\IBM\Cognos\TM1_64\bin64

32-Bit Operating Systems




TM1 v10.x

C:\Program Files\IBM\Cognos\TM1\bin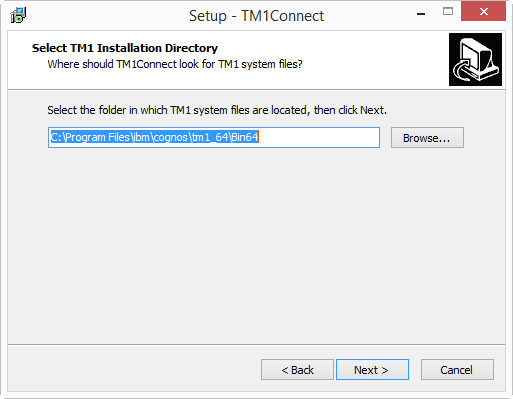 Complete the installation
The remaining setup screens provide you with options for setting the location of the Start Menu Folder and Shortcuts, and finally the option to initiate the installation. Once the installation is complete, you will be taken automatically to the configuration page. An initial, correct configuration is required to run TM1Connect. For details on configuring TM1Connect see topic Configuring TM1Connect.

Finish the installation by clicking Finish.